1. Real Name, Age and Location ?
Petar,16,Macedonia
2. Have you read the guild rules and loot policy yet?
Yes, I did.
3. When are you allowed to roll need in a Graid?
When i declare what's my main spec and i can need roll only for that spec
4. How many specs are you allowed to roll per Graid?
only for one spec.
5. Your main character's name, Class, Level & Professions? Show us a screenshot of your character stats info and raid UI.
Holyriff,Paladin,lvl 80,inscriber/hebalist
HOLY:[img][/img]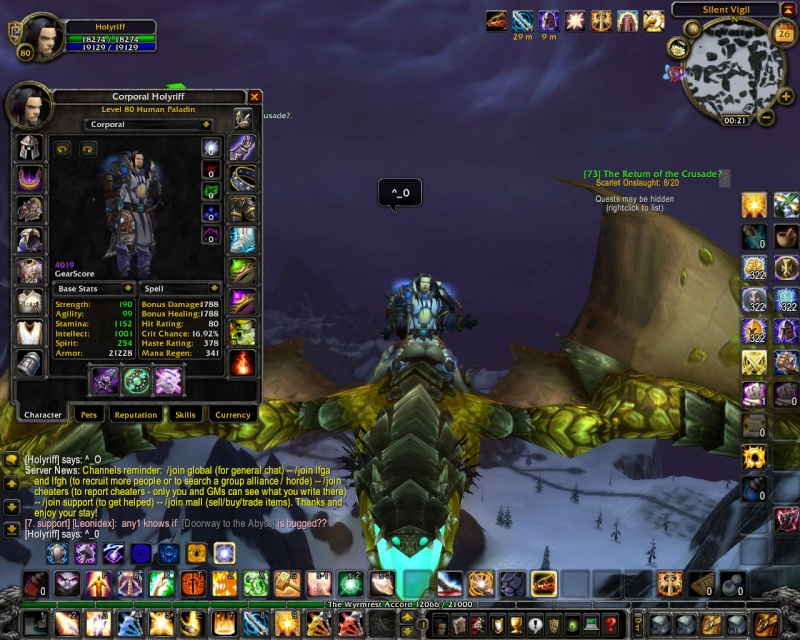 TANK:
6. What's your talent build(s)? Post link of your talent build tree.
HOLY:http://www.wowhead.com/talent#sxAdxGMsiuctgzxoZV
TANK:http://www.wowhead.com/talent#sV0bZEGtAruM0sIzfdx
7. Tell us about your Raiding Experience, what instances have you done, what is your job in the raid and what are most important stats for your class/spec(s) ?
So far I have done all the istances, Tho i havent Done some of the harder bosses (with their full script, otherwise i have done them 2 )in Ulduar(thorim,Vezaxx,Assembly of Iron,Hodir) but that's because i didnt have some good group to raid with and also opprotunity , if you give me a chance to enter your guild im sure i'll contribute in those fights,cause hey! We all know to read from wowhead sources.(HEALING STATS ARE: spellpower,mana regen(intelect)+ haste) and TANK:(defense rating,stamina)other stats for tank come with the def rating
8. Tells us about your previous guild(s), and the reason why you left it ?
I didnt though about joining some serious guilds on this server till now ,I was in some not very important guilds like Lightman's Group (i dont remember the others-_-) they werent very helpful so i left them ,tho they didnt give me the chance to help them too(bearly some chatted in guilD)
9. What is the reason you're joining this guild, and how did you hear about us ?
You are sucessful active raiding guild, you want to be clean and proffesional, and i think i can contribute to your guild.
**According to Class/spec that you're trialing for, please answer the questions that addresses your specs (Q7-9)
10. For DPSers - What is your dps score on the heroic boss dummy in Stormwind City Unbuffed? Are you able to hit at least 3k(naxx geared) 4k(ulduar geared) dps on a single boss target like Patchwerk or Ignis? Screenshot if possible.
I dont have much for dps spec(some PVP) and few ulduar pve items and that is the 3rd spec i have and it isnt in dual talents so i think it doesnt need to be explained here)
11. For healers - Please post your healing rotation and what spells you think should be your main Healing. Flash of light,holy shock,holy light , Beacon of Light, Cleanse, Sacred Shield, Divine plea,Illuminaton,Seal of Wisdom,Judment of Wisdom
12. For Tanks - Please post your bonuses and ratings.
i posted a screenshot i guess
13. Do you have any alts ? If you have list them with name(s), class(es) and level(s), Do you plan to join them too ? Gojdo lvl 80 Dk PvP geared , Riddica lvl 80 warrior PVE/PvP geared -yeah they might join aswell
14. Are you able to play at 8-12pm (+8 GMT)? This is our usual Graid Timing.
yes, I am.
15. During an official Graid which occurs daily and frequently, will you stop whatever you're doing (pvp,questing etc.) and come for it if help is needed?
Yes ofcourse i Will
16. What addons do you use? Please remember that Zion is mainly a PVE guild
gearscore,recount,Gym's cooldown pulse